DZS MXK-190 1U GPON OLT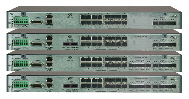 Compact, High-Performance 1U GPON OLT

DZS's New MXK Terabit Access Platforms a truly scalable solutions for high-bandwidth applications

MXK-19x, MXK-19x-10GE
Overview
The DZS MXK-190 provides next generation 1U GPON OLT features in a compact, hardened form-factor that makes it easy and cost-effective to deliver uncompromising triple play services throughout the serving area. Models are available with 4 or 8 GPON Ports. The ITU-T standard GPON technology provides 2.5Gbps downstream and 1.25 Gbps upstream bandwidth over a passive optical network on each of the 4 or 8 ports per unit.

GPON provides one of the most cost-effective ways for operators to deploy fiber-based services to the home, business, or node. With GPON splitters that can be co-located with at the CO or installed remotely in the network, the service provider can choose the network architecture that finds the right balance between capital cost optimization and scalability.

As part of the DZS FiberHome portfolio targeting the traditionally challenging and expensive service locations for residential and business users, the MXK-190 platforms' non-blocking architecture and intelligent processing enable GPON networks to deliver uncompromising quality for the full range of multi-play services, from multiple HDTV streams, video on demand, and video conferencing, to voice and high-speed internet access.

This MXK-190 design allows easy deployment in remote cabinets and space constrained central offices. The MXK-190 platforms offer unmatched bandwidth with non-blocking capacity while leveraging DZS's well-proven SLMS access operating system for sophisticated service intelligence.

DZS's SLMS (Single Line Multi-Service) access operating system provides intelligent functionality across all the company's hardware products. Driven by 8 years of experience in commercial operation and collaboration with 700+ service providers worldwide, DZS's SLMS software delivers functionality critical to today's access networks in advanced networking, quality of experience, voice, security, and management.
Ease of Management
The MXK-190 provides simple yet powerful management facility via CLI, embedded Web GUI along with complete ZMS integration. The easy-to-use DZS Management System (ZMS) provides OSMINE-certified management and provisioning across the access network, from ONU/ONT to the Central Office OLT. The MXK-190 is fully remote managed, allowing carriers to reduce service turn-up intervals, reduce truck rolls, and ultimately, improve customer service.

DZS's MXK-190 also includes Smart OMCI™, DZS's unique approach to GPON ONT configuration and management. To improve ease of use for service providers, the Smart OMCI modules present a comprehensive, intuitive interface on top of a 100% standard-compliant and proven interoperable implementation of the ITU G984.4 OMCI protocol. This interface provides the behind-the-scenes intelligence required to simplify the process of adding new or changing ONT models, service definitions, and configurations, all without OLT software upgrades. DZS has participated in the FSAN Interop plugfest conducted by ETSI, which confirms the interoperability of the Smart OMCI implementation.

The MXK-190 yet supports DZS's EZ Touch Provisioning extending ZMS element and network management capabilities, which have been mainly focused on core network elements like the MXK™ and MALC™, to the edge of the network where it cost-effectively manages and provisions the subscriber-facing features of DZS manufactured GPON ONTs.
Triple Play Services
The MXK-190 includes high-performance packet switching with advanced IP capabilities to deliver secure, reliable, and efficient voice, data, and video services. Now service providers can offer compelling bundles of multi-line voice, high-speed Internet access, and multi-set IP video (including HDTV) over their existing fiber infrastructure.
Optical or Copper Transport
The MXK-190 provides multiple SFP-based and RJ45 Gigabit Ethernet uplink ports, supporting both copper and fiber, as well as fiber XFP-based 10Gigabit Ethernet uplink ports to provide simple cost-effective transport. The uplink ports allow daisy-chained linear, RSTP (802.w), Ling Aggregation with LAG/LACP (802.3ad) or ring deployments supporting standards-based EAPS.
Specifications

Features

ITU-T Standard GPON. Class B+ and Class C+ GPON SFP optics

Fully standards-compliant Smart OMCI management of ONTs/ONUs

DZS EZ Touch Provisioning Support for ONT management

SLMS family member supporting industry-leading multimedia traffic management

Fiber or Copper Active Ethernet Uplinks with EAPS, RSTP (802.w), or LAG/LACP (802.3ad)

Full range of management options including SNMP, CLI, WebUI, ZMS and OSS Gateway

Environmentally Hardened with Removable Fan Tray


Dimensions (H x W x D)

Weight

Power

Interfaces

Uplink Interfaces:

MXK-194 / MXK-198

MXK-194-10GE / MXK-198-10GE

(8) SFP-based 100/1000Mbps Ethernet

(8) RJ45 100/1000Mbps Ethernet

(2) XFP-based 10Gbps Ethernet


Subscriber Line Interfaces:

MXK-194 / MXK-194-10GE

MXK-198 / MXK-198-10GE


- Serial craft management interface
- 10/100BT management interface
- Alarm Output & Input connections
- Port Status LEDs


Standards Support

Protocol Support

IP host and gateway support

EAPS RFC3619 support

RIP v1 (RFC 1058) RIP v2 (RFC 2453)

DHCP server (RFC 2131, 2132)

DHCP Relay with Option 82

Bridging 802.1D support

VLAN 802.1p/q support

RSTP 802.w support

Link Aggregation and LACP 802.3ad support

Dense / sparse multicast support, IGMPv2

Integrated access control and content protection

RADIUS Authentication


Management

In-band IP

Out-band IP over 10/100BT Ethernet or V.24 RS-232 serial for async terminal

ZMS (DZS Management System) via SNMP v2c for GUI and CORBA/XML Northbound interface

Embdedded Web Graphical Interface

Command Line Interface (CLI)


EZ Touch Provisioning

Smart-OMCI


Bandwidth/Distance

Regulatory Compliance

Safety

CSA 22.2 No. 60950-1

EN 60950-1

IEC 60950-1

UL 60950-1


EMC Emissions

FCC Part 15 Class A

EN 55022 Class A

ICES-003 Class A


EMC Immunity


Environmental

ETS 300 019-2-x

ISTA Transportation and Handling


Operating Requirements

Operating Temperature: -40ºF to 149ºF (-40ºC to 65ºC)

Storage temperature: -40ºF to 149ºF (-40ºC to 65ºC)

Humidity: Up to 85%, non-condensing

Altitude: -200ft to 16,500ft (-60m to 5,000m)